The rail industry demands a sustainable solution to manage the safety and compliance of its workers.
Reducing risk in a high-risk industry is the foundation of the Rail Safety Worker (RSW) system.
Pegasus proudly supports the Rail Safety Worker system to meet the challenges of a diverse and mobile workforce.
As the provider of the original Rail Industry Worker program, Pegasus has built on a foundation of proven quality and success to offer industry and our valued partners a user-friendly, agile, and mobile solution.
Please note: from June 2019, RSW replaced the Rail Industry Worker (RIW) system for rail projects and sites managed by Pegasus. To learn more about specific changes, please review the Help and Resources page. For information about the RIW system, visit riw.net.au.
What is Rail Safety Worker?
Originally established in 2012 and relaunched in 2019, Rail Safety Worker is the Pegasus rail industry solution which complies with Rail Safety National Law.
Rail Safety Worker cardholders are qualified and competent to work safely on the rail corridor.
They have provided the information required – selecting roles, uploading competency documents, and completing online inductions – to prove their skills to the strict project and site standards set by our partners. Site access is only granted to valid cardholders via mobile and fixed solutions.
If a worker holds an RSW card, our partners know they are fit to work on rail sites nationwide.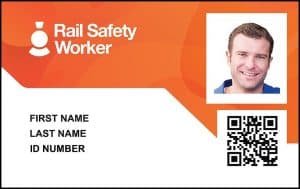 Why RSW?
RAIL WORKERS
To work on the rail network, you must prove you have the skills and qualifications to perform your role.
MORE INFORMATION FOR RAIL WORKERS
Rail Safety Workers are safe, competent and inducted, and they can prove it. They benefit in the RSW system by:
Managing their own profiles – roles, competencies, and training – in the Worker Portal
Enjoying a low, transparent cost model, regardless of size of organisation or number of workers ($100 + GST per card, $30 + GST annual renewal)
Joining a database of trusted and qualified rail workers
Having higher quality work opportunities
Maintaining an online, portable profile and receiving electronic reminders to stay compliant
Having licences, competencies, inductions, and documents verified to prove they are fit to work
Ready to register? Click to learn more on the Rail Safety Worker Registration & Compliance page.
RAIL PARTNERS
The Rail Safety Worker system is a central solution to manage skills and safety in the rail industry.
Workers meet set standards of quality and competence in the RSW system, so our partners have the power to manage them in an integrated portal.
MORE INFORMATION FOR RAIL PARTNERS
Complete insight
With the click of a button, our partners can inspect workers, crews, roles, and competencies, drilling down and reporting to the details required from the RSW system.
Holistic decision making
With this insight comes the power to make informed and agile business decisions. Scaling the workforce up or down, skilling new projects, setting site standards, or checking on qualifications has never been easier. When our partners can see it all, they can do more on their rail sites.
Time-saving business success
With everything our partners need to manage your workforce fast to find and easy to view, they're empowered to focus on what matters – their operations. Do you have the most qualified workers doing the correct jobs? Find the answers you need to plan for business success.
Powerful integration
At Pegasus, we know that the biggest projects are the often the ones that combine a diverse workforce of qualified professionals. That's why our Rail Safety Worker industry solution can integrate with our civil construction and manufacturing solutions, setting the standards your workers must meet to ensure project success. Visit our website for more information about our industry solutions: pegasus.net.au
Ready to Register?
About Pegasus

As a world leader in workforce management solutions, Pegasus connects a competent workforce.
Our cloud-based integrated solutions provide one source of truth to prequalify companies, verify that all workers are competent to set standards, deliver money-saving online learning solutions, and monitor the condition and safety of assets.
The customisable Pegasus solution works to reduce costs, maximise workforce efficiency, and maintain the highest level of worker safety.
Pegasus is the trusted name in rail safety in Australia.
Visit pegasus.net.au